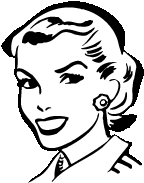 One of Portland's best sources of vintage costume jewelry, Decades carries a wide variety of delectable baubles. From 1930's bakelite to 1950's rhinestones to antique cameos you'll find a little something for every taste. We offer this list of jewelry makers in the hopes you'll find it helpful!


JEWELRY DESIGNERS
The following are a list of jewelry manufacturers and the approximate dates when they were made as a guide for beginning collectors.
Art / ModeArt - 1940's -1970's
Quite prolific, Arthur Pepper's company Modeart produced a wide variety of styles including florals, figurals, and Chistmas tree pins as well as other holiday designs.
Accessocraft - 1935 - 1996
Around antique shows you'll find collectors and dealers proudly wearing their Accessocraft magnifying glass necklaces in goldtone fillagree style to check more closely the condition of their potential purchases. But Accessocraft's real claim to fame was their war relief pins in which all profits were donated to charity during World War II. In later decades the company produced the jewelry designs of Pauline Trigere and Anne Klein.
Amco - 1919 - 1970's
Known for their gold filled, and sterling silver jewelry this American manufacturer went out of business in the 1970's. Among other things they sold necklace and earring gift sets in very presentable hinged gift boxes.
Austria - This mark denotes that the rhinestones in the piece are Austrian crystals.
Avon - 1971 - Present
Although Avon is not widely collected is is worth noting that Kenneth J. Lane designed some pieces exclusively marketed by Avon which were marked K.J.L. for Avon from 1986 to 1995.
Barclay - 1946 -1957
Very nice mid-century modern designs classic to this era. Not to be confused with McClelland Barclay.
Bergere -1946 - 1979
Although not well known Bergere pieces are very high quality and pretty designs which is a great reason to have a Bergere piece in your collection.
Beau Jewels - 1950's - 1970's
This brand had some nicely designed sets . Contructed very much like Judy Lee - similar in quality and design.
B. David - 1945 - 1990's
Nicely made and well finished B David's work is well worth collecting. A person may want to concentrate on B David's lovely crown pins that came in a variety of multi-colored designs with pastel and aurora borealis stones.
Bogoff - 1946 -1960's
Head designer and company founder Henry Bogoff's beautiful designs are sought out by collectors today for their high quality and amazing beauty. Often the pieces had a rhodium finish which adds to the high quality of the look.
Boucher - 1937 -1972
Decades recommends Marcel Boucher's beautiful designs as being good investment pieces because of his early association with Cartier as well as the jewelry being of high quality and distinguished design. His jewelry sold in higher end stores such as Saks 5th Avenue and is currently undervalued.
B.S.K. - 1948 - 1970's
Marketed through lower end department stores like Woolworth's.
Carnegie, Hattie - 1918 - 1976
Fashion designer Hattie Carnegie began producing jewelry to compliment her clothing line in 1939. The company continued after her death in 1956 for another 20 years. Any jewelry made before her death is the most sought after by collectors. Jewelry associated with a fashion designer or house is a cross collectible and therefore commands higher prices.
Carolee - 1972 - Present
Carolee jewelry will get a resounding "ho hum" from any serious collector. The rule of course is always Buy what you like.
Castlecliff - 1937 - 1977
Castlecliff jewelry wasn't marked until 1941 though scholarship on this company is slightly contradictory Castlecliff produced their jewelry at least through the 1960's.
Cathe - 1961 - ?
Indications are that Cathe, like Judy Lee was sold at jewelry parties in the 1960's. They tend to be fun designs with unusual art glass stones.
Caviness, Alice - 1945 - 1997
Another cross over from the fashion industry Alice Caviness began designing jewelry just postwar and died in 1983 although jewelry that bears her name continued to be manufactured well into the 90's. Well liked by collectors her older jewelry is quite pricey when found.
Charel - 1945 - ?
Collectors will find Charel pieces similar in design and quality to Lisner.
Ciner - 1931 - Present
Although not highly collected any nice signed piece is worth collecting and Ciner's older work tends to look like the real thing as the company was originally a manufacturer of fine jewelry. They switched their focus in 1931 to costume jewelry but probably only signed their work after the 2nd world war.
Coro - Corocraft - 1901 - 1998
Early Coro pieces such as Coro's Duette's (brooches that separate into two pieces) or Jelly Bellies (brooches with large lucite center stones) are quite expensive and collectible and will hold their value in the future. Later pieces from the 60's and 70's are much less desirable unless they are in complete 2 or 3 piece sets. In much of the later jewelry the rhinestones were glued in instead of being prong set so they are much more apt to loose stones with use or be missing stones when found.
Danecraft - 1939 - Present
Known for it's lovely Art Nouveau designs Danecraft silver is still quite reasonably priced and as such is a good investment. Who knows what will happen in the silver market next?
David-Andersen - 1876 - Present
Well known for their enameled sterling silver jewelry, often with a leaf or floral motif. This jewelry will be marked DA Norway. Quite expensive and well collected today.
Delizza & Elster - 1947 - 1990
Delizza and Elster manufactured jewelry of the highest quality. Always very solidly made this company unfortunately never signed their pieces but did paper label a line called Juliana in the late 60's. More and more is known about this company's jewelry thanks to the efforts of several studious dealers and the company founder himself. D and E's secret ingredient was the extra helping of fabulousness they put into every piece.
DeMario - 1945 - 1960's
At first glance many of DeMario's faux pearl designs look much like Miriam Haskell's work with lovely gold tone filigree. The DeMario jewelry I've come across is very beautiful but has not held up well with time. If stored in a damp or humid climate (like a damp Oregon basement) this jewelry is likely to have some sort of corrosion of the metal parts turning bluish green or black this corrosion is irreversible and usually not cleanable as once you've cleaned the green away you've worn the gold tone off the metal or the metal will be black under it. Stay away from any piece that shows this type of damage.
Dior, Christian - 1947 - Present
Dior's untimely death in 1957 at the height of his career was a huge loss to the fashion world. His design sensibility ruled the post war world with the introduction of his New Look. Any of his jewelry designs from this era would command a very high price - if you could get your hands on one. Most of what a collector can find today will be licensed jewelry from the 80's or 90's and should be reasonably priced.
DuBarry - 1950's - 1960's
Paper labels say "An original Du Barry, Fifth Avenue, Ft.Lauderdale". This company had a line of very inexpensive costume jewelry including plastic bangles and clip earrings - some hand painted and manufactured in Hong Kong.
Eisenberg - 1914 - Present
One of the most collected of the vintage jewelry brands Eisenberg is still in business today. Originally a clothing manufacturer that made dress clips and rhinestone buckles to adorn their dresses. The clips became so popular that the company started to manufacture them to be sold on their own. Eventually in the 1950's Eisenberg gave up on the clothing line altogether in order to concentrate on their jewelry line. Most collectible today are the earlier art deco pieces marked Eisenberg Originals. Look out for yellowing stones or missing stones as Eisenberg tended to use a combination of prong set stones and paves of glued stones.
Elzac - 1940's
Known for their fabulous ethnic face pins in lucite and ceramic, Elzac's figural pins have increased in value over the years often fetching $100 or more.
Emmons - 1949 -1981
Sold at home Tupperware style parties. The same parent company as Sarah Coventry but a bit better quality.
Eugene - Early 1950's - 1960's
This designer for Miriam Haskell's jewelry line broke out on his own in the early 1950's. Working out of New York, Eugene continued to design Haskell-esque jewelry. Very high quality and beautiful Eugene's jewelry is sure to increase in value.
Florenza - 1948 - 1981
Florenza is quite well thought of by dealers and collectors today. The signature look is gold tone or antiqued gold tone settings with large colorful rhinestones. Named to honor his wife Florence, Dan Kassoff's company also manufactured pieces for other quality jewelry companies of the time.
Gale - 1955 -?
The jewelry I've seen from this company has been higher quality prong set rhinestone sets. Although not well known this company's jewelry is harder to find than other manufacturers of the time and it's for this reason that I recommend picking it up when you can find a nice piece in mint condition.
Garne -1945 - 1960's
Nice mid-century designs were the trademark style of this New York based company.
Givenchy - 1952 - Present
Another notable fashion house Givenchy was founded by Hubert de Givenchy in 1952. This French designer's work is highly collectible and the house is still a major presence in the fashion world.
Goldette - 1958 - 1970's
Goldette often styled their jewelry to look like parts of Victorian fine jewelry were pieced together and made by a jeweler into a bracelet or a brooch.
Georg Jensen -
Georg Jensen founded his silver company in 1904 and died in 1935 but his company and legacy live on. Collectors of modern design covet the work from this company which include pieces from modern architect Arne Jacobsen of Ant and Swan chair fame. Jewelry with the Georg Jensen mark commands very high prices in today's market. Even a small unassuming brooch can fetch over $200. The older more intricate jewelry would make fine investment pieces.
Har - 1950's -1960's
Quite rare and always fabulous Har's fantasy pieces are a great find for any collector. Expect prices to be quite high.
Haskell, Miriam - 1924 - Present
Best known for her faux pearl jewelry Haskell's work is wonderfully intricate and beautiful. With hoards of fans including dealers and collectors alike, Miriam Haskell jewelry remains quite high in price and for good reason. Haskell used the highest quality materials and the beauty of the work speaks for itself.
Hickok - 1909 - 1970's
Hickok was one of many companies that specialized in men's jewelry and accessories. Much of it was art deco or mid century modern in design. These were marketed in beautiful bakelite and plastic boxes which will be marked Hickok on the bottom with the company crest.
Hobe - 1927 - 1990's
William Hobe founded the American Hobe Cie jewelry company in 1927 and sold mainly through high end stores. From bead work to rhinestones to sterling Hobe's pieces are always top quality and are prized by collectors today.
Hollycraft - 1948 - 1971
Hollycraft was the trademark of the Hollywood Jewelry Manufacturing Company. Hollycraft has a signature look usually characterized by multi colored pastel rhinestones on a gold tone or antiqued gold tone setting. Though very pretty Hollycraft rhinestone jewelry is rarely prong set so check the piece over very carefully for missing stones.
Jomaz - 1946 - 1981
An offshoot of the Mazer Brothers Company, Joseph Mazer founded his company in 1946. Some of the jewelry by Jomaz was designed by Andre Fleuidas in the 50's and more recently Adolfo in the 70's.
Jonette Jewelry - 1944 - 2006
Most of what a collector will find today will be whimsical pins of very lillte value. Collecting the sterling pins would be a better bet for future investment. Look for JJ in a diamond cartouche with the word Sterling above it.
Jonne - 1950's - 1962
It is unclear when Jonne's parent company Schrager started producing Jonne jewelry but the company closed in 1962. Jewelry by this company has a signature look. Sort of a cross between Miriam Haskell and Stanley Hagler. It is made in the same way Haskell, Eugene, DeMario and Robert made their jewlery and collectors should look out for the same kind of green corosion that plagues the vintage jewelry of those other companies.
Joseff of Hollywood - 1935 - Present
Eugene Joseff, a designer of jewelry for Hollywood films founded Joseff of Hollywood in 1935 and continued designing for the company until his death in 1948. His widow Joan Castle took over operations of the company after that and later pieces may bear her name. Joseff's work can be seen in a myriad of films ranging from Gone With The Wind to Breakfast at Tiffany's. The association to such films and to many movie stars who wore his jewelry keeps prices for his jewelry very high.
Judy Lee - 1958 - 1980's
Sold in Tupperware style jewelry parties the Judy Lee brand is not widely collected which makes it a pretty good buy as it's moderately priced and the pieces were usually well put together and nicely designed.
Juliana - 1967 - 1968
Recently discovered by collectors Juliana is the house brand label of Delizza and Elster. This company's high quality rhinestone jewelry is unmarked and can only be identified through particular manufacturing techniques.
Karu -1940 - 1970's
At first glance Karu's quality designs look much like the work of other quality manufacturers like Weiss or Weisner. Though not well known Karu's jewelry is well made and as such is quite collectible.
Kramer - 1943 - 1979
Also marked Kramer of New York, Kramer jewelry is avidly collected as it is always high quality and well designed. Prices of Kramer jewelry are quite reasonable considering quality and demand.
Krementz - 1866 - Present
Krementz is best known for it's gold filled jewelry from the art deco to mid-century periods. Krementz made men's cuff links, tie clips, collar buttons and a full line of women's jew
Lane, Kenneth J - 1963 - Present
After working for Vogue and Dior, Kenneth Jay Lane (K.J.L.) founds his own costume jewelry business in 1963. His designs adorned a long list of notables from Liz Taylor to Princess Dianna and he is still in business today.
Laguna - 1944 - 1980's
If multi-strand necklaces are your thing Laguna is right up your alley. Laguna often used colorful art glass beads in their work. Strangely interspersing plastic beads with beautiful glass ones they somehow make this work with stunning results. You'll find the signature on the hook clasp.
La Rel - 1950's
New York manufacturer La Rel made "rhinestone magic" for some time in the 1950's catering to the younger market. Simple and tasteful and well made their hang tags bragged that it was non-tarnishable..
Larin, Robert - 1968 - 1972
Canadian modernist Robert Larin was working out of Montreal in the late 60's and early 1970's. Most pieces are signed R. Larin and are made from cast pewter.
Les Bernard - 1963 - 1996
Bernard Shapiro, son of Harold Shapiro of the Vogue jewelry company joined forces with Lester Joy and formed the LesBernard company in 1963. Because it is more recent the Les Bernard company's jewelry is not highly collectible as yet but many pretty pieces can be found quite reasonably today for just that reason.
Leru - 1956 - 1960's
Classic mid-century designs, you'll find the look similar to Coro and Lisner of this era. Lots of moon glow lucite sets as well as plastic and rhinestone pieces.
Lisner - 1904 - 1979
With a long history of jewelry manufacturing the Lisner pieces a collector is likely to find today date from the 1950's and 60's when costume jewelry was at it's height. Like the later Coro pieces much of Lisner's later pieces did not use prong set stones and as the result often lose stones with storage and wear. Some of the better of the future collectible Lisner are the pieces with plastic elements like leaves or flowers. Try to buy these in full sets if possible but it shouldn't be hard to piece together a set if you found a single piece you like as Lisner jewelry is quite common.
Liza - 1980's - As with most makers the style of the jewelry reflects the time period. In this case big, brassy gold tone pieces - some gold plated. Pieces are signed Liza. Paper labels indicate the company was based in Dallas and London originally producing only fine jewelry then producing a costume jewelry line.
Marvella - 1911 - Present
Marvella is not highly sought after however there are many nice pieces of Marvella out there. This company specialized in faux pearl jewelry. Pearls come in and out of fashion so expect prices to raise when you see pearls in the fashion magazines.
Matisse - 1952 - 1964
See Renoir.
Mazer - 1926 - 1951 and 1946 - 1981
Joseph and Louis Mazer started their company in 1927 and made jewelry with the Mazer Bros mark. Marcel Boucher designed for the Mazer Bros company for a time before striking out on his own in 1937. Joseph Mazer left the Mazer Brothers company in 1946 to start Joseph J. Mazer & Co. The Mazer and Jomaz marks were first used in 1946. See Jomaz
McLelland - Barclay - 1935 - 1943
Fabulous multi-color art deco is the signature look of this companies prized pieces. Marked McLellland - Barclay and sometimes Barclay it might be eonfused with Barclay (1946-1957) but the signature font is different as is the look of the jewelry.
Monet - 1937 - Present
Like Trifari the key to collecting Monet is to buy the older pieces as Monet is easy to find at department stores at reduced prices most of what I see around tends to be made within the last 2 decades and is quite easy to find.
Mosell - 1940 - 1980 - Frederick Mosell is probably best known for his Egyptian revival pieces. Large gold tone cuff bracelets and matching bib necklaces and earrings some resembling gold lace.
Napier - 1922 - Present
Another maker that is currently in business selling through large department stores is Napier. Early pieces will be hard to find but the newer pieces are plentiful and prices are cheap.
Ora - 1921 - Present
Ora's beautiful art deco designs were great quality and are being produced today from the original molds. For this reason collectors should be shy about buying a piece without knowing the provenance.
Pakula - dates unknown
Pakula is not a well known brand to collectors but manufactured gift sets as well as wholesaled other brands of costume jewelry including Whiting and Davis as well as Anson - a brand of mens jewelry. Because their work was unsigned most of theri work is lost in anonymity. They marketed thier jewelry in gift boxes with name Pakula Originals printed inside. Classic mid-century designs, floral motifs and hand set rhinestones are the norm for this company.
Pannetta -1945 -1995
Designer Beneditto Panetta started his company in 1945 after working for both Trifari and Pennino. Collectors appreciate the high quality of his work and prices reflect that.
Pennino - 1926 - 1961
Brothers Frank and Oreste Pennino started their company in 1926. Austrian crystal rhinestones and vermeil were often used and this jewelry is very collectible in today's market.
Phyllis - 1940's - 1960's
Well made, though not well known the Phyllis jewelry company sometimes used sterling silver settings.
PS Co - 1905 - Present
Plainville Stock Company made lovely art deco and filagree jewelry peices based on the fine jewelry styles of the period.
H. Pomerantz - 1930's - 1960's
Founded by Herman Pomerantz, jewelry by this designer is quite rare and very little is known about the company. Older pieces are marked H POMERANTZ INC. N.Y. Some pieces are reminiscent of Joseff of Hollywood designs.
Rader, Pauline - 1963 - 1980's
Fun designs like her fly brooch with trembling wings attached to springs make for a nice piece for any collection.
Rebajes - 1941 - present - Francisco Rebajes was a brilliant moderist jewelry designer and sculptor. Much of his jewelry work is in copper or sterling silver and his peices have been exhibited in museums and galleries around the world. Originally from the Dominican Republic Rebajes imigrated to New York as a teenager. Having very little means his work was unexpectedly discovered by the director of the Whitney Museum. As his career took off he opened a store in Greenwich village and later on 5th avenue. All the pieces were handmade though not neccessarily by him. He hired Otto Bade to make the jewelry in the early 1940's who later oversaw all the work and eventually bought the company from Rebajes in 1960 and jewelry bearing the Rebajes signature is still manufactured today.
Reja - 1939 - 1953
From 1939 to 1941 marked Deja. Like most jewlery manufacturers of the time this company worked through the war years in sterling silver adding rhinestones for color. The designs are classic retro.
Regency - 1950's - 1970's
I'm a big fan of Regency jewelry. It is always of the highest quality and they often used unusually shaped molded stones that look like leaves. Their beautiful color combinations and quality settings were often Japanned and were always well designed. I highly recommend Regency jewelry for all of the above reasons.
Renior - 1946 - 1964
This beautiful copper based jewelry is usually modern in design reflecting mid 20th century design esthetics. My favorites of these are the multicolored enameled pieces made by Renoir's sister company Matisse which opened in 1952. This jewelry has lots of fans and is much harder to find than it used to be. Snap it up next time you see a piece you like.
Robert - 1942 -1979
Like DeMario, Robert's faux pearl work resembles Miriam Haskell's designs. Look the metal over very carefully for corrosion. Other pieces may be rhinestone or enamel.
Roth-Feder - Late 19th century - 1930's - Signed either Roth-Feder or Roth & Feder there is not a wealth of knowledge about this company but they manufactured rhinestone belt buckles as well as brooches and clips much of it in art deco styles.
Rosenstein, Nettie - 1935 - 1960's
Starting her career as a milliner the Austrian born designer Nettie Rosenstein produced clothing from the 1920's through the early 1960's. Look for her silver vermiel pieces with colorful enamel.
Sarah Coventry - 1949 - 1984
You laugh now but this sleeper brand although quite common is very reasonably priced for just that reason so grab some nicer examples while they're still reasonable. Sets are best.
Scaasi - 1958 - present - Arnold Scaasi's lovely jewelry certainly turns heads. He is a fashion designer as well as a jewlry designer and sells mainly on HSN these days.
Schiaparelli, Elsa - 1930's - 1960's
From surrealism in fashion design to shocking pink, Schiaparelli's designs and reputation speak for themselves. The legendary fashion designer created jewelry designs as well. Very colorful, high quality bold designs are her signature look. Very collectible, very expensive, jewelry with her signature will hold it's value for years to come. Beware of fake Schiaparelli jewelry in which the name is misspelled.
Schreiner - 1951 - 1970's
High quality and beautiful, this New York maker's designs are quite desirable now. Known for "reversing" the rhinestones so the facets catch the light Schreiner often used crystal rhinestones.
Simpson, Adele - 1940's - 1970's
Jewelry by American Designer Adele Simpson was produced in limited quantities and is quite rare and collectible today. Worn by every First Lady from Mamie Eisenhower to Roselin Carter her conservative clothing designs had appeal to professional women everywhere.
Spiffardi - 1950's - Another of the countless companies lost to history as their jewelry was unsigned. This company marketed their work in velvet gift boxes with a paper info sheet trumpeting the quality of their work. They called their stones Dia-mo-crys or "artificial diamonds" which were open backed crystals set by hand. As all things imported were the rage in those days they also went by the name Spiffardi of Florence Italy though the jewelry was made in the U.S.A.
Star - 1940's -1960's
Another of the many New York based costume jewelry makers of the mid-century styled in the classic design sensibility of the time.
Stein, Lea - 1969 - 1981 and 1988 - Present
Lea Stein's jewelry is often mistaken for lucite, celluloid or even bakelite. Her rhodoid figural pins especially the fox pins are simple, colorful and collectible.
Swank - 1936 - present
Although the history of this company can be traced back to the 1890's the Swank name was not used until the mid 1930's. The company was then and continues to be a quality manufacturer of men's jewelry including cuff links, tie clips and even necklaces. Today in addition to manufacturing their own signature line they also make jewelry for Pierre Cardin, Alexander Julian and Anne Klein among others.
Taxco - Many Mexican silver designers have a huge following today. Especially designers that were working in the 1940's. During World War II shortages and rationing of brass, copper and other hard metals made silver the metal of choice for much of the jewelry of that period. Much of this work came out of a small town in Mexico called Taxco. Some pieces will be signed and some will not. Names to look for are William Spratling, Margot de Taxco, Hector Aguilar, Los Ballesteros, and Los Castillo. There are many many other silver marks and designers. Collectors of these pieces often settle into collecting the work of one or two designers. Beware of items bearing the mark "Alpaca" as they are not silver.
Trifari - 1918 - Present
With Trifari as with any maker that is still producing jewelry the key is collecting the older stuff. The Trifari Jelly Belly as well as the Coro versions are sought after today bringing high prices as they have been collected for many years.
Roger Van S - 1945 - 1960's
Better known for thier award winning purses and belts Roger Van S designs were the brain child of Mrs. Doris Van Schoyck who went by Mrs. Roger Van S. But they also had a line of costume jewelry comparable in quality and design to Trifari.
Vendome - 1944 - 1979
Known to collectors for beautiful bead work Vendome's parent company Coro started using this name for their higher end jewelry in 1944. Eventually in the 1950's the Vendome brand had a full line of jewelry
Vogue - 1936 - 1973
Known for high quality beadwork in the 1940's and 50's. I prefer their modernist pieces of the 1960's.
Volupte - 1926 - 1950's
Better known for their elegant compacts Volupte had a very nice line of jewelry in the 1950's.
Warner - 1953 - 1971
Joseph Warner's lovely rhinestone jewelry is solidly made and could remind one of other makers such as Karu, Weiss or Regency. Also of note are his "blooming" mechanical flower pins which open and shut by moving a lever.
Weiss - 1942 -1971
Weiss is a maker that used Austrian crystal rhinestones which speaks to the quality of the work. Weiss jewelry is highly collected today but is still reasonably priced. Most of Weiss' early jewelry uses prong set stones on beautiful settings. Some of their later work is not as high quality with the stones just glued in. Check these pieces over carefully for missing or replaced stones and pass on them if they are not perfect.
Wiesner, Joseph - 1950's
I haven't found any reliable information showing a connection between the jewelry marked Wiesner and the accessories marked Wiesner. Neither is rare by any means, both are always lovely designs.
Wiesner of Miami- 1950's
This multi faceted accessory company advertized heavily in Vouge magazine. Their Trickettes line featured compacts, perfume bottles, lipsticks, pill boxes and the like encrusted with rhinestones, faux pearls and genuine mother of pearl.
Whiting and Davis - 1930's - 1991
Vintage clothing collectors and antique enthusiasts will recognize the Whiting and Davis name as being associated with metal mesh purses from the 1920's, 30's and 40's (as well as a come back in the 1980's). They did however produce a line of jewelry that is coveted by collectors today. Look for their cuff bracelets or mesh bib necklaces.